May 4, 2003
10,530
6,090
113
43
Smigg Dirtee "The Resume"
in stores NOV. 14th (the features)
w/ 4 new bonus traxx
on Black Armor Records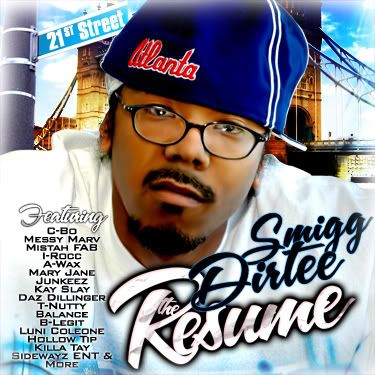 1. Intro - The Resume *NEW
2. We Ride - messy marv
3. Rush - FEAT. Mistah Fab
4. BayRider Gang - FEAT. A-Wax, Dutch
5. Follow My Lead -FEAT. The Team
6. Get that Dough - FEAT. Balance
7. Yey Yey -FEAT. killa Tay, C-Bo
8. Live This Life -FEAT. I-rocc, A-wax
9. My Town -FEAT. Hollow Tip, 80 West
10. My Block-FEAT. Taydatay, Rick Moss
11. Ride 2nite-FEAT. Luni Coleone, Young Hogg ,Flip Loc
12. Cant love U that Way - FEAT. Boog aka Dirteeboy jR, CG (A-Team)
13. I Got- FEAT. Mary jane Junkeez, Jack D
14. Its Like that Feat. The A-Team
15. Blocc Shit -FEAT. T-nutty
16. What We Go through -FEAT. Daz Dillinger, I-Rocc
17. 3 16's -FEAT. DJ Kay Slay, Noose, A-wax
18. Last Dance - FEAT. Devious, Luni Coleone, B-Legit
BONUS TRAXX
19. Nobody Disses Me
20. Industry/In Da Streetz
21. So Good
The Resume part II coming soon..
feat.. Loon, Layzie Bone, Dutch, Haystak,Lil Cyco, Gonzoe, A-Wax, I-Rocc, Hollow Tip, Mitchy Slick, X-Raided,Young Bop, Outlawz, Tiny Doo, Sincere (TRU records), Fiend and more