Artist also releases the track listing to his upcoming EP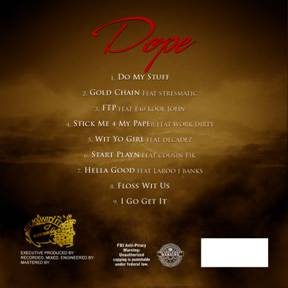 Rising star HOT aka Marty McFly, continues to scale the ranks of Bay Area Hip-Hop setting up for his much-anticipated release of his debut EP titled "DOPE," with features by E-40, Laroo, Cousin Fik, J Banks, Work Dirty, Kool John, Stresmatic, and Decadez. HOT's solo EP will follow the success of his last mixtape dubbed "Ball or Die." With production by Droop-E, Decadez, and AJ, HOT's new project is guaranteed to hit the market like an atomic bomb.
Check out the rising stars video for the project's banging new leaked records "Wit Yo Girl" featuring Decadez. Known for his unique fashion sense, the artist, also known as
 "Marty McFly," is also working on developing his own urban clothing line "Fly Club," to be unveiled very soon.
Keep up with HOT online at Twitter.com/YoungHot707 and Instagram.com/Marti_McFly1.