Mar 18, 2008
2,010
1,566
0
42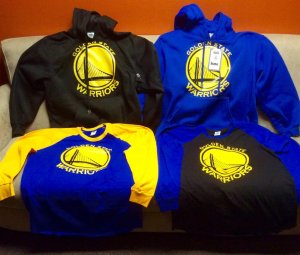 ​
Steph Curry Golden State Warriors Scoring Challenge win 2 hoodies Black & Blue by Ugly Nigga
Win 2 Super Fluffy Warriors hoodies from Ugly Nigga:
1- Guess the exact points that Steph Curry will score when the Golden State Warriors play on Saturday, January 2nd, 2016 vs the Denver Nuggets at the Oracle Arena (If Curry is not playing in the game due to injury etc...Klay Thompson is the alternate).
2- Your post must go up BEFORE THE START OF THE GAME/ 7:30 pm Pacific Standard on January 2nd 2016
3- Complete a $2.99 download off of Amazon of the e-book "Ugly Nigga's Stalker Stories/ Guns & High Heels"--->
Guns and High Heels: Ugly Nigga's Stalker Stories - Kindle edition by Cory Ellis. Literature & Fiction Kindle eBooks @ Amazon.com.
4- Screen shot the Amazon receipt of purchase and post it in this thread (you are now free to enter the challenge and enter your score).
* In the event of a tie score, with two or more people having the same answer, the prize will go to the first contestant who posts..."I WON"...so hurry back here to claim your winnings.
* If only ONE CONTESTANT enters the challenge with no other competing players...that single person will AUTOMATICALLY WIN BOTH HOODIES WITHOUT HAVING TO GUESS THE ANSWER.
* The first 20 contestants get a BONUS ENTRY (2 total guesses)
* Available sizes: Large, XLarge, 2X, 3X
* No shipping outside of the United States unless you pay the difference in the cost of the postage.
Once again these are 2 Super Fluffy Hoodies of high quality and they will...LAST LONGER...than your...RELATIONSHIPS...I GUARANTEE IT.
Last edited: