Apr 25, 2002
3,134
4
0
50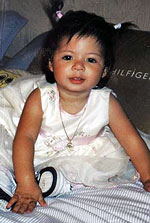 .
---------------------------------------------------------------------------
Watts community responds to shooting of Susie Pena Lopez
.Jose Raul Peña, aged 34, died of multiple gunshot wounds, and his daughter, Suzie Marie Peña, who was less than 2 years old, died after being shot once in the head in a shootout with the LAPD in Watts. That afternoon, the police received a report that a man was firing random shots. When they went into the area they encountered Raul with Susie in his arms. Shots were exchanged and Raul went back into the office of his auto dealership.
Several of Raul's family members begged police to let them go in and talk to Raul because they felt they could talk him into surrendering, but the police refused. 80-100 cops came into the area and laid siege to the place. Raul was on the phone with family members and people in the neighborhood during the 3 hour siege. He was also negotiating with the cops by phone. "I can tell you now I have SWAT officers having tremendous emotional problems. They are getting therapy. Some may not be coming back to work," an Assistant Police Chief said afterwards.
Watts community residents took the streets in response to the shooting of 17 month old Susie Lopez who was shot in the head with a rifle by the LAPD.
VIDEO