The legendary lightweight, welterweight & middleweight champion Pernell 'Sweet Pea' Whitaker passed away today in a car crash, rest in peace to him & condolences go out to his friends & family
taken from
https://www.voice-online.co.uk/article/legendary-fighter-pernell-whitaker-dies-aged-55
Legendary Fighter Pernell Whitaker Dies, Aged 55
Pernell 'Sweet Pea' Whitaker was pronounced dead on Sunday, after being hit by a car near Virginia Beach
Written by Juenelle Muge
15/07/2019 05:28 PM
R.I.P: Boxer Pernell Whitaker died in a car accident on Jul 14
AMERICAN PROFESSIONAL boxer Pernell Whitaker, affectionately nicknamed by his fans as "Sweet Pea", was hit at an intersection on Virgina Beach at 10.04pm on Sunday night (Jul 14). Local police reported he died at the scene.
The driver of the vehicle was unknown and the incident remains under investigation.
Throughout his professional career, Whitaker was known for his outstanding defensive skills and strong counterpunch.
The American southpaw was first introduced to the mainstream sports scene after winning an Olympic gold medal at the Los Angeles Olympics in 1984.
He then went on to become a four-weight world champion as a professional, winning lightweight, light welterweight, welterweight and light middleweight titles.
In 1989, Whitaker was named Fighter of the Year by
The Ring magazine
and the Boxers Writers Association of America - a title which had previously been held by the great Julio Cesar Chavez and since been held by former world heavyweight champion Anthony Joshua.
The legendary fighter retired in 2001 and dedicated his life to training upcoming boxing professionals.
View image on Twitter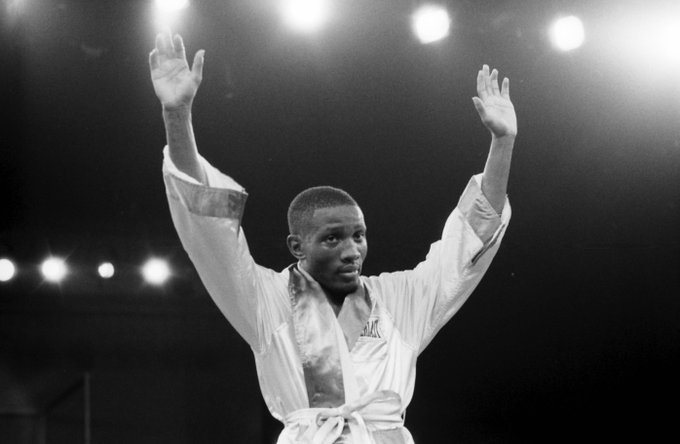 Bleacher Report

✔@BleacherReport
https://twitter.com/BleacherReport/status/1150765210359255040
Boxing legend Pernell Whitaker has died at age 55 after being hit by a vehicle

5,422
2:53 PM - Jul 15, 2019
​

1,714 people are talking about this

Twitter Ads info and privacy
Whitaker's daughter Dominique has said: "I want to inform people that today we lost a legend, truly one of boxing's greatest pound-for-pound champions, my father Pernell 'Sweet Pea' Whitaker."
Since the announcement of his death, tributes to Whitaker have circulated across social media.
Former heavyweight champion David Haye told
Sky News
: "He will always be known as one of the greatest defensive fighters."
ESPN broadcaster and former HBO Boxing commentator Max Kellerman said: "The best lightweight I ever saw passed away today. Yes, that includes Roberto Duran, Floyd Mayweather, Ike Williams, and anyone else you want to mention. RIP Pernell Whitaker.
Promoter Eddie Hearn said: "Rest in eternal peace Pernell "Sweet Pea" Whitaker – IMO the greatest defensive fighter of all time."