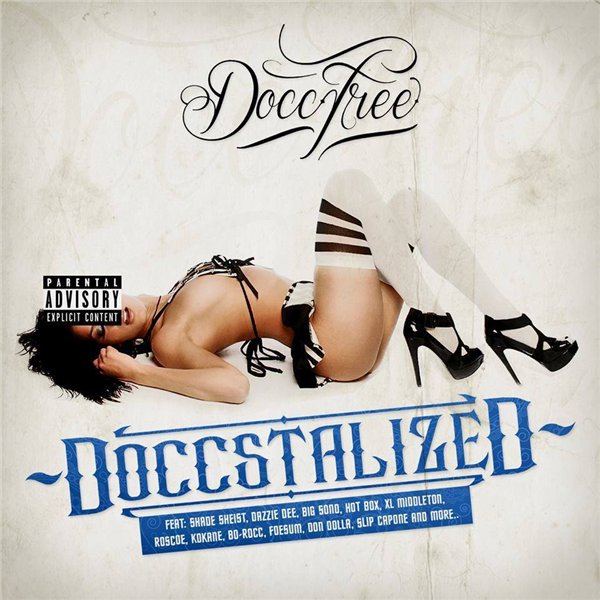 Many g-funk fans might have been familiar with Docc Free, the truly genius g-funk producer from Italy. We'd say even more – if you ain't heard of Docc Free, then you ain't down with G-Funk, especially, its contemporary form. Today we got some big news for ya'll, g-funk fans and supporters: Blue Era Ent. in collaboration with G-Funk.WS is ready to announce the release of the long anticipated album Docc Free – DOCCSTALIZED.
This album is released in CD format and for the time being it will be available only in this format (with digital release to be announced later on). These are real-deal replicated CD's (not duplicated CD's or CD-R's) and probably it's the first release by Blue Era Ent. which was released on real CD's.
Speaking about the music quality on this album, those who know Docc Free by his previous works might have already realized that it would be nothing but g-funk dopeness in its purest form. And yeah, in fact it's an outstanding album with some finest g-funk beats flavored with some talkbox here and there & cleverly selected features. It's G-Funk, explored in all its forms: smooth, gangsta, party, 90's inspired up to modern & somewhat futuristic vibes. The album consists of 22 beautiful tracks performed by Real West Coast OG's and talented upcoming artists such as: Shade Sheist, Dazzie Dee, Baby S, E-White, MC Eiht, Roscoe, XL Middleton, K-Dee, Slip Capone, Foesum, Young Dazzie, Hotbox, Lowlife, Big Sono, Haas, Natural Red, Uncle Roach, Tweed Cadillac, Badtripp, Loesta, Enois, La Fossa, Jonimal, & Holy D, with amazingly sung vocals by Andre "Dre Boogi" Wilson, Bokie Loc, Chag G, Kokane, Bo Roc (of Dove Shack), Kampaign, Kendrick & Westcoast Stone and talkbox lines played by one of the best talkbox players in the world – Dogg Master (France), Don Dolla (USA) & J.Locc (Italy).
Docc Free – Doccstalized (11.12.2013) | G-Funk.WS
__________________