When The A.T.L. Crime Files hits the stores on November 30, 2013, it will be the group's first official CD in 14 years! Needless to say if you claim yourself a Westcoast G-funk fan, you must check this one out! You are going to feel that smooth, yet raw vibe popularized by the Pomona, CA pioneers who brought "Black Superman", "Murder Rap" and many other classic gangsta rap anthems to the world.
The album was actually supposed to be released back in 1997 as a follow-up to Time Will Reveal, but got shelved by Tommy Boy Records. Fortunately, Philipp Geibel, CEO of German label Drop Top Music, recently hooked up with Westworld Records and Gregory "Cold 187um" Hutchison to publish the record. Cold 187um produces all 10 tracks and is featured on 7.
The late KMG (RIP) is featured on "Kill If I Have To" and "All Day Everyday". Other featured artists include then up and coming rappers Cold 187um was trying to put on the map via this album: Daddy Cool aka Triggaman, Madd Harv Dawg, Enuff, Blackundaya, Caviar, Haha Loc and The E.V.E..Artwork design by Foued B Lord Akeem and photographed by Stephane "Wize" Vetry.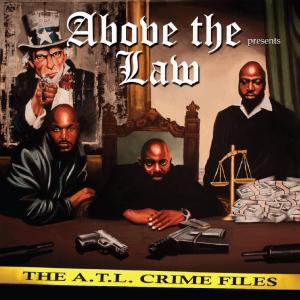 1. INTRO
2. KILL IF I HAVE TO
(DADDY COOL, COLD 187UM & KMG)
3. REST YO NECK (MADD HARV DAWG & COLD 187UM)
4. ALL DAY EVERYDAY
(ENUFF, DADDY COOL, COLD 187UM & KMG)
5. THE WORLDS BEST KEPT SECRET (BLACKUNDAYA)
6. DUCK AND DODGE (MADD HARV DAWG)
7. IN THE MIX (DADDY COOL, CAVIAR & COLD 187UM)
8. LIVE FROM THE BLACKHOUSE (BLACKUNDAYA)
9. FULL TIME
(MADD HARV DAWG, HAHA LOC & COLD 187UM)
10. WAKE ME UP (THE E.V.E. & COLD 187UM)
Pre-order The A.T.L. Crime Files now at:
http://droptopmusic.com/shop/above-law-presents-atl-crime-files-cd http://rapmazon.com/ (Germany) http://rapbay.com/ (USA) http://187prod.com/ (France)